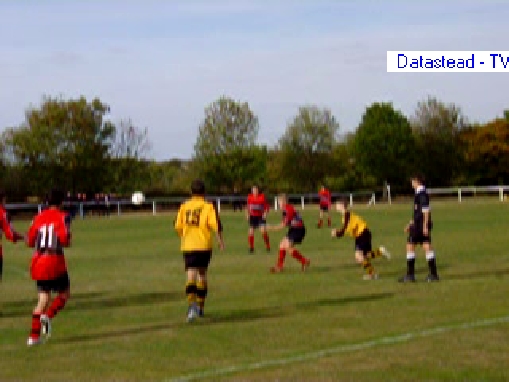 Alconbury v West Pinchbeck
Here we were at the sports and social club for one of Alconburys toughest games of the season. the starting XI was : Turner, Shelton, Dovaston, Dunn, Baker, Clare, Adams, Magee, Denning, Mcintyre, Steel. Subs: Horsely, Goodwin, Pope, Drage, Tommy, Edwards.
The game kicked of fairly evenly and there were few chances to recall. The first real chance of the game went to super striker Luzypuzywusycusyiniwinisnski of Pinchbeck as he rounded Turner and his shot was unlucky to rebound of the post and Dovaston was there to clear. The first goal of the game went to Pinchbeck as a feroscious drive was superbly saved by Turner only to be scored on the rebound. Both sides created few chances before half time but probably the best chance fell to Mcintyre who was expertly tackled as he was about to pull the trigger from 8 yards. The teams went in for half time at 1-0.
The Second half began with Tommy replacing Denning on the right hand side and his debut started fairly lively with a few good passes. Not much was happening so Drage was brought on for Mcintyre to liven things up. He did just that with some solid runs and good passes. Alconbury were on the push for a goal and Steele had a good chance to equalise only to see his shot saved by the keeper. Then after a good cross from Magee, Shelton had a chance with a header but his powerful header sailed just wide. The game was starting to liven up and Shelton was really getting to grips with theyre number 15. He told him to F*** Off after one tackle which really shows Sheltons good passion for the game. The Adams and Magee seniors were really getting wound up and Adams snr ended up calling there 15 a f***ing sack of spuds after tapping Shelton on the back after a nasty challenge. This was also the chance for Tom to unleash his viscious temper on the opposition. He squared up to there number 15 and looked close to giving him a pounding. If there was a ref older than 10 yrs old then this would have probly been sorted. Now everyone was getting a passion in the game and an inspired substitution saw Horsely come on for Steele with Tom pushing up front. This created many chances but against the run of play Pinchbeck got a seccond after a well controlled volley from a corner. A great run by Drage ended up in Alconbury pulling one back after Tom cooly slotted in from 6 yards. Alconbury were piling on the pressure and Adams almost equalised in the dying seconds with an exquisite lob which beat the keeper and hit the inside of the post with Dunn desperately close to sliding it in. That was the final action of the game and an inspired second half couldn't save the game for Alconbury. Final score Alconbury 1 - Pinchbeck 2 !
Player ratings:
Turner: 6 - Did well but made a few mistakes which could have been costly.
Shelton: 7- Solid game for the Sheltonator.
Dovaston: 7 - Did well against lively Luzypuzywusycusyiniwinisnski
Dunn: 8 - Solid at the back, Even better up front.
Baker: 6 - Poor first half but got back into it weel in the second
Clare: 7 - Not his best day but linked well with Sheltonator.
Magee: 6 - Didnt get involved in the game
Adams: 8 -great battling and attitude and great shot at end
Denning: 6 - Didnt get involved
Mcintyre: 6 - not at his best today
Steele: 6 - good battling, overall good effort
Subs:
Tommy: 7 - did well when he came on
Drage: 7 - Great contribution awith good battling and runs
Horsely: 6 - not much to do
Subs not used:
Goodwin
Pope
Edwards
Men of the Match: Jonny Adams and Tom Dunn
Report by fan: Tom Corney
Yaxley v PSV
We turned up at Cambell drive, PSV only to find out that we couldnt play there due to the council not turning up to unlock the changing rooms. Luckily we got a pitch at middletons road and the game was delayed until 11am. The starting XI was: Moody, Sweeney, Bell, Cochrane, Granger, Worraker, Griggs, Pierganni, Carver, Corney, Edwards. Subs: Brookes, Tutty.
The game began with both teams fiercly battling for possesion and it was fairly even for the first 20 minutes. The first chance of the game fell to Corney whos left footed shot was easily saved by the keeper. This was the only chance until after 25 minutes some good link up between Pierganni, Griggs and Corney resulted in a left foot pierganni shot missing the target by a large margin. At half time the game was at 0-0.
The second half began and you could see that it was going to be a dirty half. Tackles were flying in from both sides and it was still as even as the first half. With few chances from either teams the game was mainly being played in the centre of the park. Then out of the blue Blair of PSV let loose a wild shot from at least 40 yards out. Moody was 10 yards of his line and looked like he was daydreaming as the ball sailed over his head and dropped in the net. 1-0 PSV! With Yaxley pushing forward there were some good passes but not many decent oppurtunities. Griggs long throw was looking dangerous and with only 1 minute left a griggs throw in resulted in a goalmouth scramble which ended up in a corner. The presence of Bell and Sweeney caused the PSV defence to be worried and after a lovely corner from Granger Griggs popped up with a bullet header into the bottom corner. 1-1! This was almost the last touch of the game as the ref blew for fulltime. Final score Yaxley 1- PSV 1
Player ratings:
Moody 7 - more comanding this week and good calling
Granger 7 - Battled well, more like old self
Sweeney 7- Headed and cleared well
Bell 7 - Strong performance
Cochrane 7 - Did well all game, not troubled
Worraker 6 - did well but beaten a few times
Griggs 7 - strong performace capped off with brilliant equaliser
Pierganni 6 - not at his best today, maybe due to being against his old club
Carver 6 - played well but lost control of few simple balls
Corney 7 - Battled well but didnt have the ball much
Edwards 7 - Battled brilliantly, better in first half
Subs:
Brookes 6 - did well, didnt have much time to make impact
Subs not used: Tutty
Man of match: George Bell
Report by player: Tom Corney
Sawtry Colts Vs Ryhall

A bitterly cold day with high winds. Theses were the conditions for a good match for the neutral supporter. It was announced that there was a women ref and the players first reaction "Is she fit?" It turned out that she was ugly and couldnāt ref.
It started extremely badly for Sawtry conceding 3 goals very quickly with only ten minutes gone. Things got worse when ten minutes later they got a fourth. For five minutes there was a tight game then Sawtry started to play football. A good corner from Cooke was met by Adam Wearing with a good header, this was saved and Phillips reacted the fastest and smashed it in to the corner of the goal from six yards. It remained a tight game with only a few chances for each team. Then Phillips struck a brilliant free-kick and some how the keeper tipped it onto the bar from the top hand corner.
Half time came a Mr Coleman Sawtrys assistant manager gave them a right ear full especially the defence. A very quiet team talk from manager Gabriel as usual.
Second half started a bit slowly with an extremely close battle in midfield. then 25 minutes in Anderson got away from his marker and chipped the keeper from 18 yards. This sparked a revival from Sawtry and their belief was boosted. Wearing was taken off for Richard and Abbot was replaced by Steve. Richard made an impact strait away with a good run and fired the ball across the box where Rabiting was inches away. Five minutes later a flying by Richard caused some serious problems for Ryhalls defence. Once he was in the box all the defender could do is bring him down. Cooke stepped up to take the penalty and calmly slotted it in the corner. This was the last that Sawtry could do. They ran out of time and Ryhall were announced 4-3 winners.
A poor first 20minutes sums up Sawtrys game but a brilliant and brave effort in the second half but still was not Sawtrys day.

Player ratings:

Richard Baines- 6 - some good saves but couldn't do anything about the goals.
Mark Smith- 5 - poor game, at fault for 3rd goal.
Gavin Cooke- 7 - Good solid performance with a great finish for the penalty.
Ben Abbot- 6 - poor game for his high standards.
Michael Coleman- 7 - good first have left exposed for one of the goals.
Jonathon Anderson- 9 - great game, great goal excellent finish for his goal.
Richard Phillips- 7 - won some good headers rewarded with the goal and unlucky with his free-kick.
Adam Wearing- 6 - some good touches but lack his edge like in other games he has played.
Matthew Ellis- 7 - poor game for his standards, but some good runs.
Samuel Curtis- 6 - quiet game with some good runs but he could do better.
Ashley Rabiting- 6 - showed some good pace but couldn't get into the game like usual.

Subs:
Richard- 7 - excellent pace and runs and done well to win the penalty.
Replaced: Wearing
Steve- 6 - quiet game as Sawtry were attacking when he was on.
Replaced: Abbot
Man of the match : Jonny Anderson

Report by player: Richard Phillips
ALCONBURY VS P&T WANKERS
First Impressions...s**t pitch...dodgy area...wooden goal posts...hmmm..
Whilst warming up, alconbury were trying to come to terms with the state of the pitch, it was so hard, uneven, and with the odd tuff of grass only just playable. A few surprised faces when the team who battled well against W. Pinchbeck the previous week was drastically altered. Here is the starting XI..
EDWARDS
DUNN
BAKER HORSLEY SHELTON
TOMMY ADAMS MAGEE CLARE
MCINTYRE DRADGE
SUBS - DOVASTON, GOODWIN, POPE, DENNING.
The match started fairly well for alconbury with a few attempted attacks resulting in a corner, which horseley headed only for the keeper to parry it wide. Resulting in another corner dissapointinly challenged. Dunn then got penalised for holding on to one of their players, resulting in a poorley defended free kick from about 15 yards. Alconbury then started to fall to peices with their control, and more was to follow as they went down 2-0 before halftime due to 2nd choice goalie Edwards flapping at a long shot just under the bar...
The secound half started with Dovaston replacing Dradge, and Dunn going up as a forward. They had also made a couple of subs, one of them a striker with a lot of pace, which Dovaston was required to meet. Dovaston was a bit shaky at first but soon got a foot on the game. Then their third goal came from a cleared corner going straight to their player on the penalty spot just needing to put it in the bottom corner. Alconbury had a bit more attacking pace with Dunn, although Alconbury weren't creative enough. Then came their final goal which was a free kick conceded around the same place as the first one, and then Mcintyre headed it into his own net after a couple of flick ons. Then Goodwin and Denning came on as wingers to replace the original wingers, Tommy and Clare. With about 15 minutes left, Denning made a slight impact with a few balls that would of been in use earlier in the match when there were more people willing to push forward. The match finished at 4-0.
Edwards (7) some good saves, 2nd goal was a mistake.
Baker (7) good 1st half battling, few mistakes 2nd half.
Horsely (6) didnt get involved.
Dunn (8) played well as sweeper, and gave us more pace upfront.
Shelton (8) Good heading, not much support when making runs from attack.
Tommy (6) Didnt get involved in first half, wasnt given a chance in 2nd.
Adams (7) Some good battling, Didnt get up for heading.
Magee (7) Didnt get involved as much as he could, although some good balls.
Clare (7) The Shelton-Clare linkup didnt work this week!! Average first half.
Dradge (6) Was holding up the ball well at times and one excellent 30 yard ball, but control was poor.
Mcintyre (6) Some good tackles, but too many flicks where he could of held it up.
SUBS
Dovaston (7) Started of a bit shakey, but improved.
Goodwin (6) Didnt get involved enough as he could.
Denning (7) Made an impact on the right.
Subs not used - Pope
ben baker knocks the ball back in the area